Finally, after waiting too long I gave myself the Oculus Quest2 as a present. After 5 years of using the HTC VIVE and before that the Oculus dev. kit it is now time for a completely new headset and I am curious what my experience is.
At the moment I have been using the HTC vive with my partner since the first day it came out in 2016. Over time, we have upgraded it with new lenses, new leather face pad and the elite headstrap. I also had to replace the USB cable after about 3.5 years.

My first week with the new oculus is therefore entirely based on my current experience with the HTC VIVE and is then also a comparison blog. 😉

So at the moment I am sharing the HTC vive and as you may already know this is a VR headset with cables – connected to your PC and with 2 space sensors.
Of course we don't share our PCs so every time I want to use it I have to unplug the headset from his PC and plug it completely into mine.
This completely takes away the spontaneity of VR and after the many good stories about the oculus quest 2 and absolutely the price, it made me decide to check out a new VR headset just for me!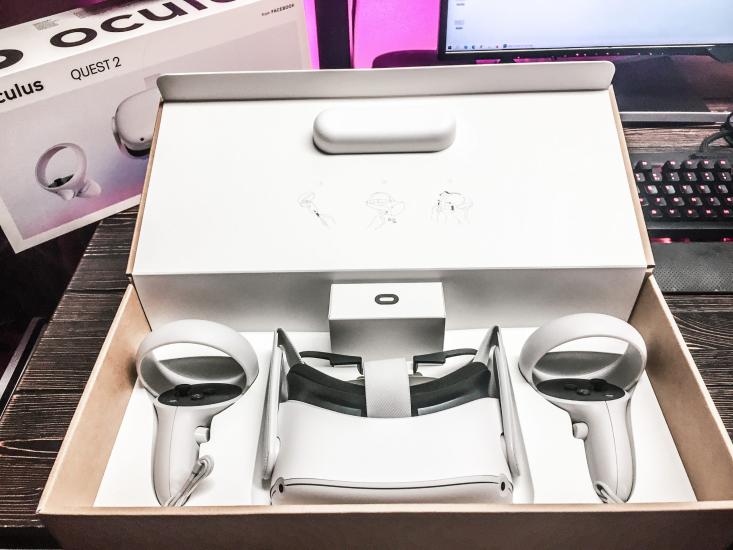 I chose the 64GB headset – this should be enough for me because I use it alone, also want to use it linked to the PC and because the price is lower!
I don't have an elite headstrap yet and just picked the base set.
The packaging and its quality give me a high Apple feeling. I myself am very sensitive to that because it gives the impression that you are unpacking something very special! So if you like that too, this is an absolute plus!
In the box is of course the Oculus Headset, 2 controllers, 1m cable with charging block and that was it.
3 drawings in the box indicate how to install it and that immediately says a lot about user-friendliness of the device.
The installation was also super fast .. I had already created an Oculus account via the PC in advance and you need a Facebook account for the installation.
In terms of facebook, I am really not in favor at all, but this also determines the price of the headset. There is of course a reason that it only costs 350 euros. You are part of the product.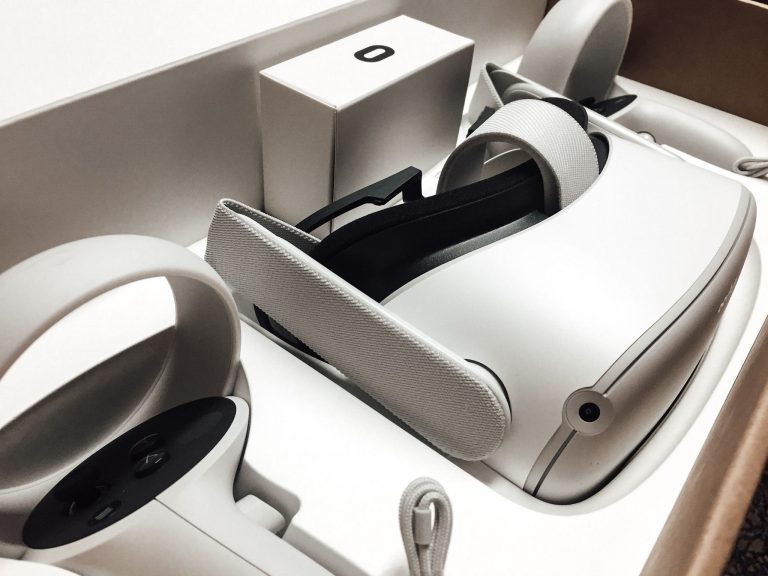 The comparison with HTC Vive - first impression
The first thing I noticed is the weight. the Oculus is super light and easy to set up. Partly because it has no meters of cable!
The controllers of both sets are fine .. The Oculus controllers give me an instant PlayStation feeling, but that's because of the buttons and the joystick I think .. but that's really nice.
The biggest difference – besides the cables – is the Field of view!
Used to the 110 degree FOV of the HTC VIVE, the 90 degree of the Oculus Quest is really a step back.
In addition, the Oled screens of the HTC VIVE are a pleasure, especially when watching movies in eg Big Screen. But in itself you get used to the colors of the Oculus and the sharpness of your image makes up for everything!
When you start your Oculus Quest 2, you immediately enter your main menu with your Oculus store.

This is also linked to your app that you had to download during installation and if you are looking for or want to buy something, it is recommended to do it via the app.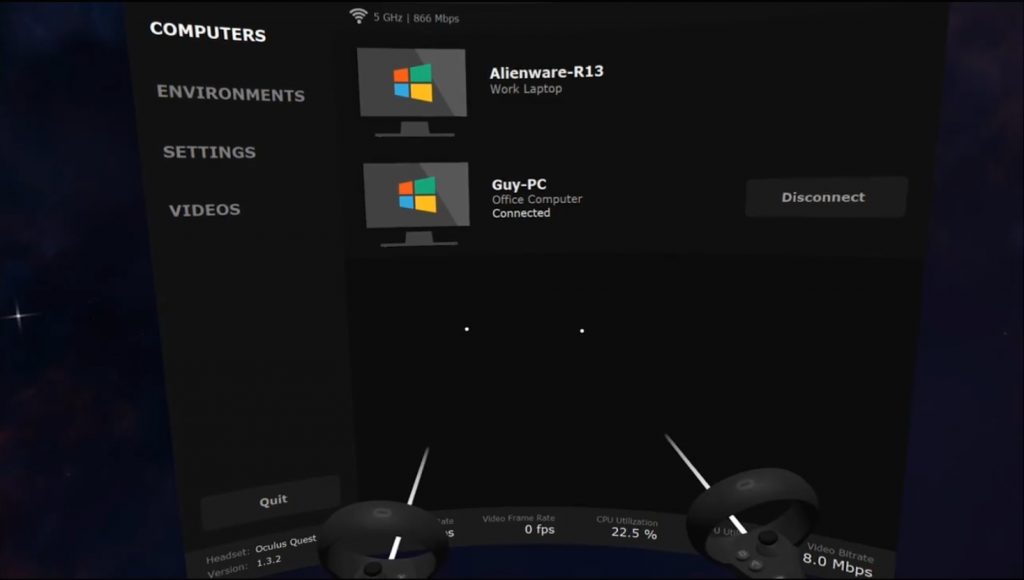 The first thing I noticed are the prices of the games and programs! My god these are really prizes that you think about whether you want to try it out. Think of amounts from 19.99 / 29.99 for a game.
Also because I have my Steam full of games that I now would have to buy again for a higher amount, this was a huge disappointment!
That's why I installed Virtual Desktop – $ 19.99 [ Website ] with which I can play my steam games without a cable .. Because that was one of the reasons I bought the Oculus Quest 2.
Watch this Youtube video with which I managed to install all this quickly in combination with SideQuest.
no more cables! Playing Gorn without getting stuck in your cables is really great!
 Price quality is very high
no room censors
Hand tracking! a world opened up for me here!
The simplicity of the headset. Can be used by everyone
strap and play!
good sound without external headphones
The Facebook story is really the biggest downside
Prices from the oculus store
FOV of 90 degrees
Battery empty after 2 hours when using eg Big Screen.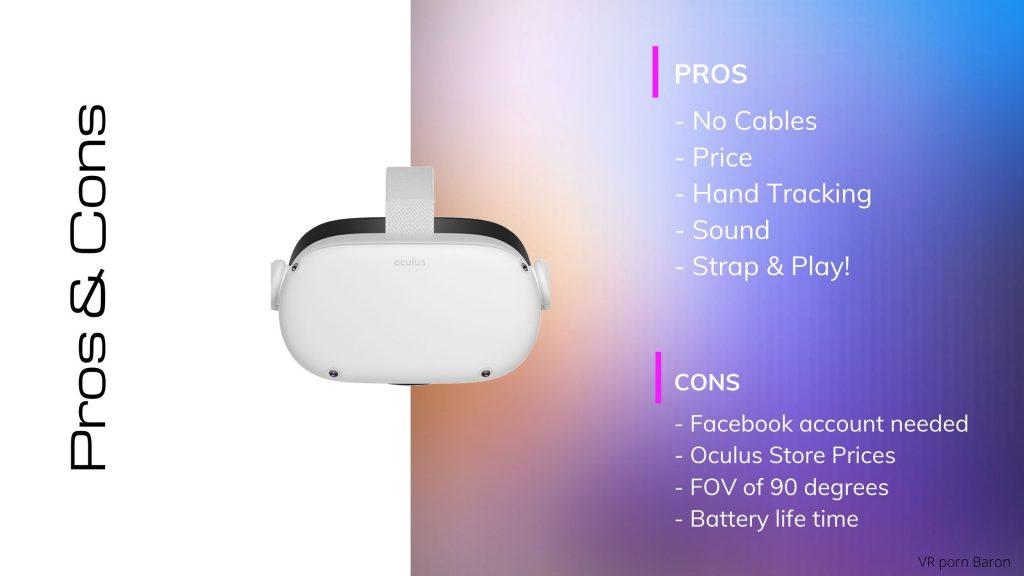 After using the Oculus Quest 2 VR headset for a week, I have come to the conclusion that it is perfect for me. I mainly want to watch Netflix, play big screen and games. For that, the 64 GB is just fine – provided you keep an eye on the space and occasionally delete things when I'm not using it.
You will notice that the HTC that I use before is a more solid headset and is stronger. But for me that is really overkill.
The price is very attractive for new VR people and that is also very important for the entire process that contains VR. The more people start using it and it becomes mainstream, the more attractive the prices and the more content is made! Oculus is therefore very well involved in this! Thanks;)
That good price does have a downside, because that also means that you are not done with the 350 euros you spend on the set.
Over time, you really have to buy the elite head strap. I myself got a headache over time because the headset is really tight on my forehead. Also a USB C cable is needed to connect to your PC.. The cable now included is a USB-C to USB-C but if you have like me no USB-C input than you have to buy a new cable.
Note: you need to use your USB 3.0 input on your PC for the quickest data transfer. It's also adds extra battery life!
The original USB C Cable from Oculus is 99 euro! Just look at the internet for a better deal than buying this cable right away. You can buy a good cable of Amazon for about 20-40$!
I also thought the sound was very good and I could even connect my AirPods Pro to my headset. When watching a series, the sound may not have gone well, but that Bluetooth part is still in beta mode.
All in all, a good purchase that I will write a lot about and enjoy!