You can hardly ignore it anymore – Virtual Mate – If you are at all interested in NSFW content on Google, Reddit, Twitter and so on you will come across this name more and more often.
But what exactly is Virtual Mate? Why do people talk about Virtual Mate and is it something you should buy? In this article I will take you into the world of VirtualMate, what it is and what it does! Feast your eyes on it!
What is VirtualMate?
Very briefly, Virtual Mate is a a multifunctional sex toy that is paired with a VR sex game via bluetooth.
With Virtual Mate you have sex with a very realistic virtual girl on your PC, Laptop, Mobie or VR Headset using the stroker that you put on your penis.
What's so special about Virtual Mate?
After working hard on the development for two years, they broke all records on the IndieGoGo crowdfunding platform in just 48 hours.
With this achievement, they received instant media attention and the bar was set extremely high!
After all, what is so different about the VirtualMate than, say, the well-known Kiirroo Fleshlight or Lovense devices?
Every new cyberdildonic that comes on the market uses the latest technology, including the Virtual Mate. Due to, among other things, the most optimized Bluetooth connection that transmits the signals, the VM gives very good real-time results.
But okay, you can expect that from any new device really. The big difference that VirtualMate makes is that it has the world's first human-pc interaction interface.
This means that your virtual friend responds to the real-time sensors incorporated into the device.
These intelligent sensors respond to depth, strength, and speed signals that your avatar on your screen or on your VR headset responds to. Something we haven't seen before!
So just like a real person, your virtual friend feels your depth, speed, and strength!
How is the quality of the VirtualMate?
Anyone who has played a cybersex game before knows that the girl on your screen can feel kind of robotic. VirtualMate's software is completely different in this regard.
The Virtual Mate game has amazingly high quality and it looks incredibly realistic. From the lighting, the skin tones, the fluid movements to the facial expressions, the visuals of the software element of Virtual Mate look amazingly realistic.

The Virtual Mate Game
Since VirtualMate is a total package, let's take a closer look at the game (software). Which is, without a doubt, very impressive: in detail and in erotic possibilities.
Most importantly, the character models do not look at all like the average digital constructions, but instead like real flesh and blood people. Not really a surprise when you consider that they did very broad research with scans of real models.
If the "standard model" Sheila is not your cup of tea, fear not, because Virtual Mate is working on much more: for example, there is currently a contest for the next model, artists can have the chance to be digitized. For example, people can upload their own photo or that of a favorite porn star.
But okay, you have a beautiful girl that they have recreated one-to-one, what can you do with it you must be wondering.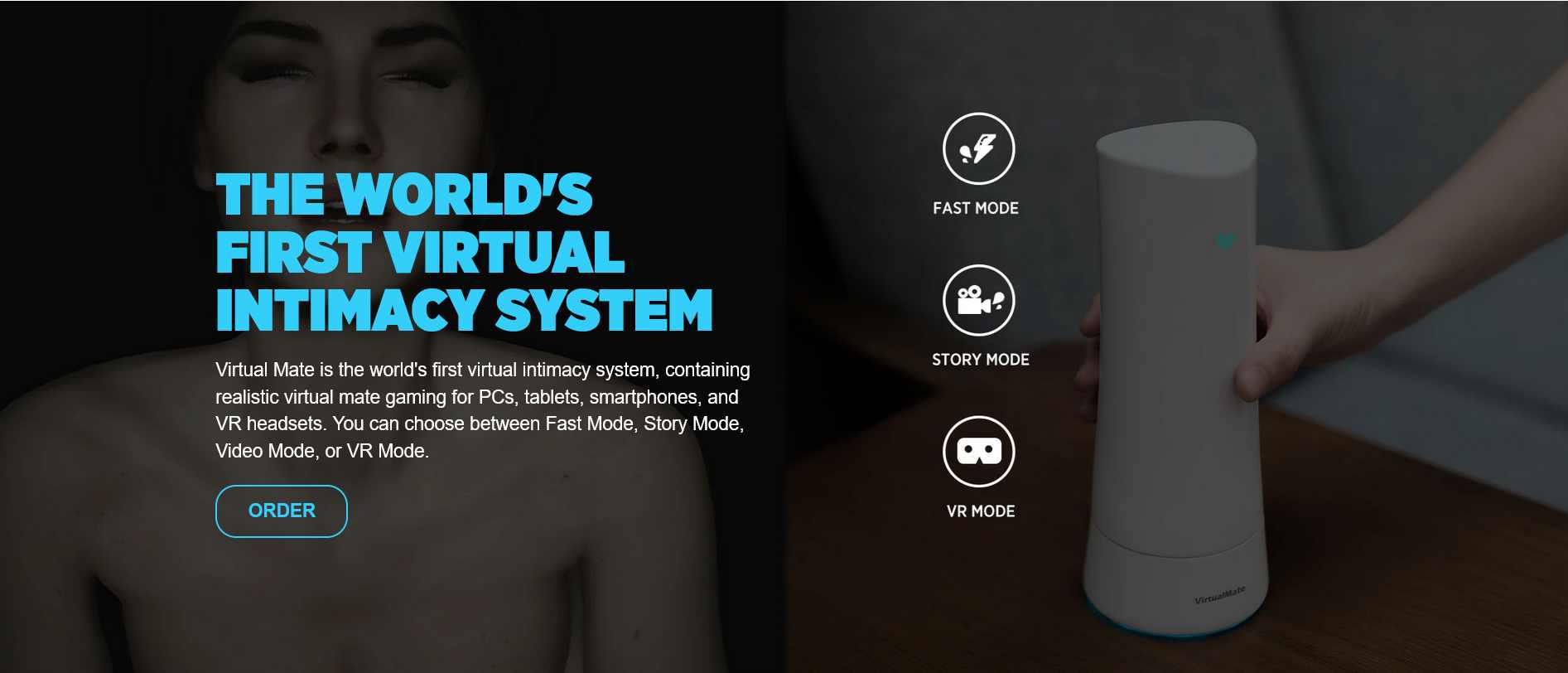 Choose your Mode
Virtual Mate has three different modes in the version of the game as I'm writing this review. (mid 2021)
If you want to get into action quickly then you choose the Quick Mode. This allows you to instantly choose from different modes, activities and so on.
If you are more of a romantic then you choose the Story mode. Here you get to know your model by interacting with her. And finally, you have the Virtual Reality option which why we included it on our VR porn site! This is the most immersive experience of the game and if you have a headset then you absolutely must try it. What is important to know is that you must have an HTC Vive or an Oculus to use this feature! – EDIT: We were told on Reddit by a user of the HP Reverb G2 that Virtual Mate works fine with Mixed Reality Headsets.
If you are more of a romantic then you choose the Story mode. Here you get to know your model by interacting with her.
If you have a PSVR then connect it to your PC to play the VR game (including Virtual Mate's VR mode).
The mobile VR mode is compatible with all types of VR headsets that use your phone screen as a display, such as Google Cardboard, Gear VR.
Do keep in mind that it is a new game and new updates are coming often! For example, they are working on a package where you can choose a different voice and more girls are being added all the time!

VirtualMate Core Device
Now let's take a look at the device. This special stroker, or Core as they call it themselves is as special as their software. For example, there is a feature on the device to preheat so you don't have to put your penis in a cold device. They also patented the "smart layer" which feels what you do with it and sends that data via Bluetooth to the game! Crazy!
The great thing about VirtualMate is that they certainly didn't just make an average sextoy. No, a lot of attention has been paid to comfort, hygiene but also to appearance. Check out the pictures yourself. They don't lie.
How do you use the Virtual Mate?
Because they want to keep the VM very user friendly, the requirements for running it are relatively simple. As they say on their site: Can your computer run games like "World of Warcraft, League of Legends, StarCraft, PUGB, and/or Fortnite then you can also handle Virtual Mate. Should you be using a Mac then no worries these can be used as well!
Important to know: Because it is connected with bluetooth your PC must be able to receive it! If you do not have this option on your PC or laptop make sure you have a usb dongle.
Connecting is fast and uncomplicated, with just a push of the warm-up button on top of the stroker.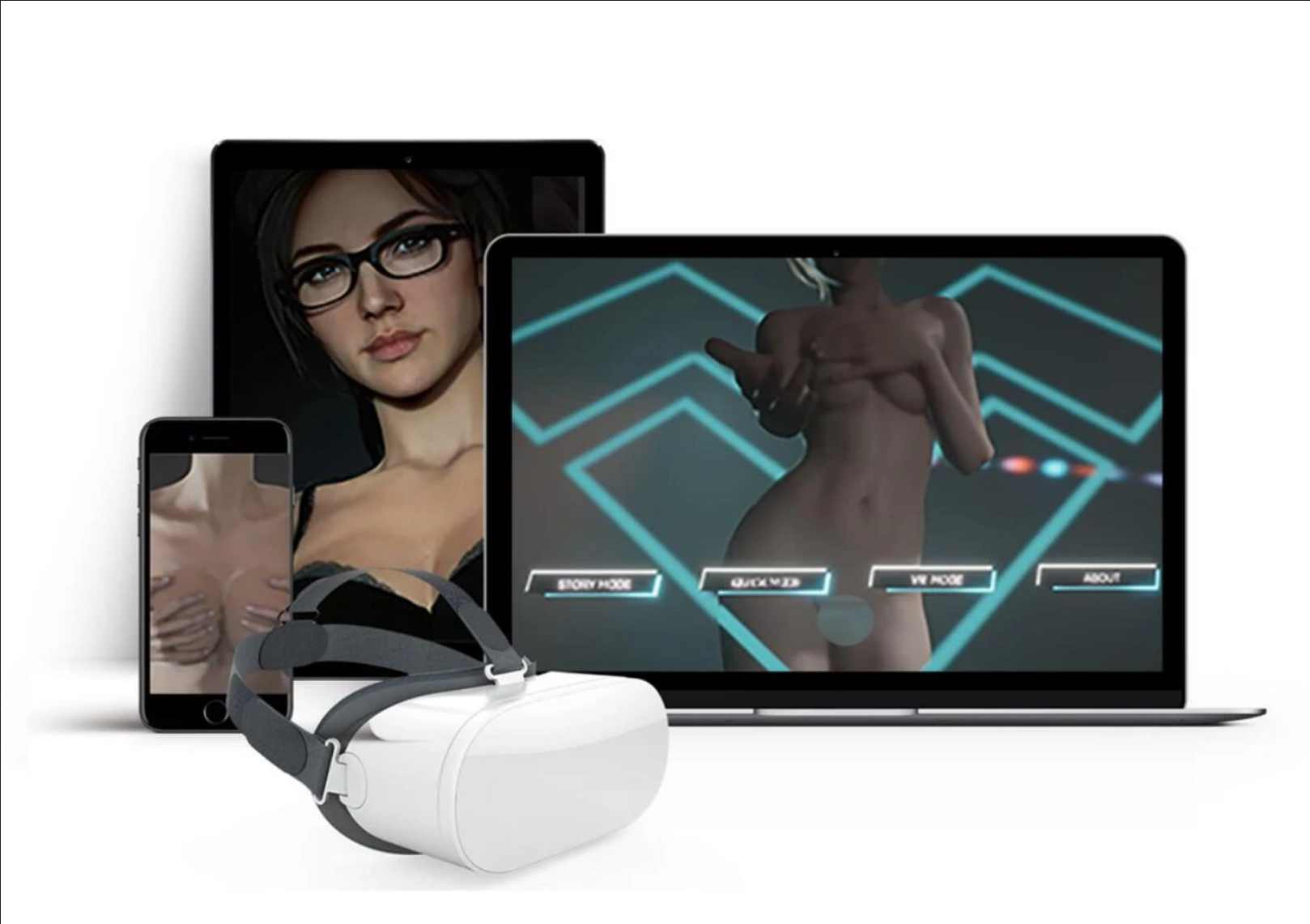 How much does Virtual Mate cost?
At the moment the Game in combination with the Core costs $399. But there is a limited-time offer and you can buy the whole package for just $179! Which is amazing value if you ask me!
But that's not all! If you go to the website via our link and make your purchases you will receive another $10 discount!
They ship worldwide within 2 weeks!
Pros and Cons
Pros
 the game and the core are extremely well matched
 works with VR
 a lot of money and love went in the development
 quality of the game
 realistic virtual models
Cons
Works only (at this moment) with the Virtual Mate game
Not cheap (unless you get the current discount)

Conclusion
Would I recommend Virtual Mate?

If you like new technology then ab-so-lutely! It's really cool to be at the beginning of something new and of such high quality! I personally don't have any issue supporting it financially!
Also because you know it will only get better since they are still in a development phase. Lots will be added!
I do have to say, because I am familiar with the Kiiroo, that it is pretty limited right now. Because so far you can only use it with the VirtualMate game.
It wouldn't be a bad idea to give game makers the opportunity to capitalize on this great technology!
It would also be nice if you could download a demo to see how the simulation moves and reacts.

So in short, do you have the money and want to spend it on something special, which is pretty limited right now but looks like it will be amazing in the near future? Then be sure to check out their website!